Here is how we made the bunnies:
1. Trace your child's foot and cut out the shape
2. Cut out some bunny ears
3. Attach the ears to the smaller heel end of your foot
4. Add some eyes and a nose. We put the tail where your big toe would be.
5. The flowers I made were from a kit by K&Company but you could easily just make your own flower shapes. I just thought realized I could have made flowers by tracing their hands!
I love that this will keep a cute record of how the boys are growing each year. I know MJ's feet look funny. He is a very wiggly baby so it was hard to trace well. We made some reindeer at Christmas using the same idea with hand antlers.
How are you decorating for spring?
This post is linked to the following sites: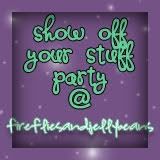 Fingerprints on the Fridge
Fun To Craft
Home is Where My Story Begins
Mamas Kinda Crafty